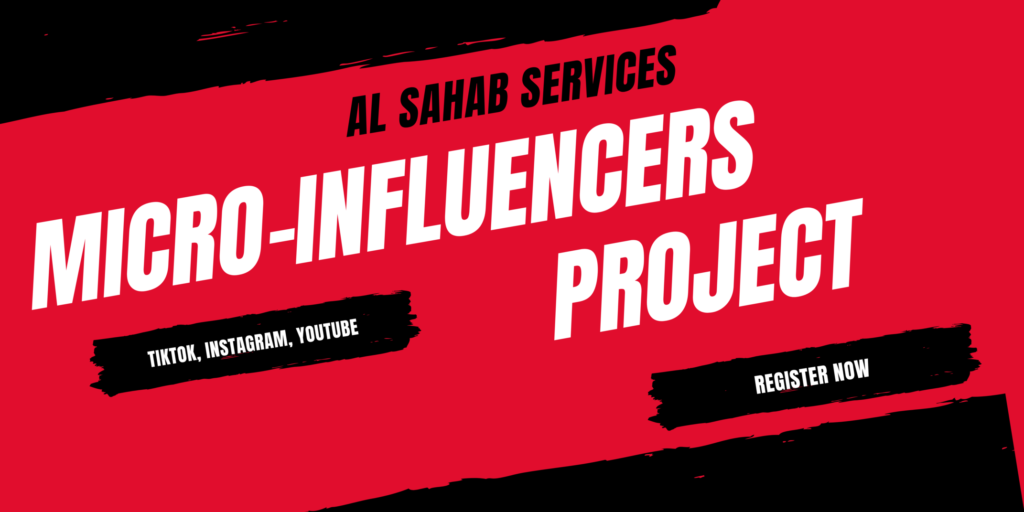 What is Micro-Influencers project from Al Sahab Services?
A lot of companies spend huge amounts of money to advertise their products and services in various electronic media and platforms.
Many companies, entrepreneurs and projects have recently gone to advertise through content creators and influencers of huge number of followers on social media platforms, which has contributed to the success and development of their projects in addition to benefiting content creators.
As mentioned earlier, companies are turning to highly popular content creators for their advertising. But, did you know that there are a lot of companies and organizations that don't have the ability to spend big for advertising by famous content creators? What is the solution?
What is Micro-Influencers?
The word "micro" comes from the diminutive or small thing. "Micro Influencers" means Small Content Creators or influencers. That is, content creators who have an excellent number of followers and engagement and are on their way to becoming famous. Companies are turning to these influencers and content creators to save on advertising expenses and to support emerging content creators to develop their skills and content.
Why are many companies turning to micro-influencers instead of the famous influencers (macro)?
Not only to save money, thus, sometimes the advertiser may also spend a large budget in advertising through micro-influencers. The reason for this is that companies prefer to talk about their products from more people and with less fame instead of fewer and more famous people.
How does it work?
Our field of work in Al Sahab Services is marketing, and many advertisers contact us to advertise their products or services through content creators, but they have a limited advertising budget. 
Advertising campaigns (example):
Let us give you an example of a startup that requested an advertising campaign for one of its products on social media platforms through micro-influencers with a budget of $5000. We notified 4 content creators who advertised the product on their accounts and each of them got $1250.
Are you qualified to be a Micro-Influencer? Register now